The Kent Chronicles COMPLETE mini-series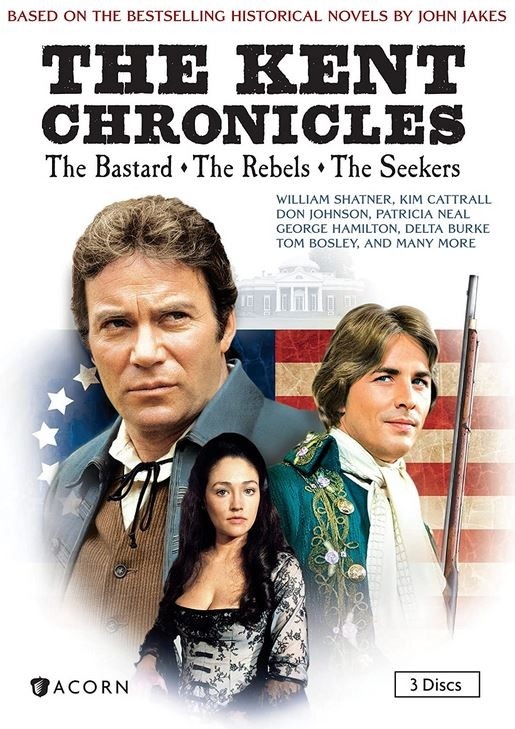 https://www.imdb.com/title/tt3204204/
Based on John Jakes's bestselling historical novels

With William Shatner, Kim Cattrall, Don Johnson, Patricia Neal, George Hamilton, Delta Burke, and Tom Bosley

Nominated for two Emmys® and a Golden Globe®

Based on the bestselling novels by John Jakes (North and South), this star-studded Revolution-era romp follows the fortunes of a young Frenchman (Andrew Stevens, Dallas) as he immigrates to America and crosses paths with historical heavyweights, including Paul Revere (William Shatner, Star Trek), Benjamin Franklin (Tom Bosley, Happy Days), Samuel Adams (William Daniels, St. Elsewhere), and George Washington (Peter Graves, Mission: Impossible).

Filled with adventure and romance, these three miniseries chronicle the saga of the Kent family in early America. In The Bastard, Frenchman Phillipe Charboneau adopts a new identity as Philip Kent in the colonies. In The Rebels, Kent fights in the War of Independence and strikes up a friendship with a dashing and reckless Virginian (Don Johnson, Miami Vice). The Seekers completes the story as Philip's sons and grandson forge a life on the western frontier and fight in the War of 1812. Also starring Patricia Neal (Breakfast at Tiffany's), George Hamilton (Where the Boys Are), Olivia Hussey (Romeo & Juliet), Delta Burke (Designing Women), and Kim Cattrall (Sex and the City).


https://www.kprotector.com/p18/62385da8ec3b5