Spyship COMPLETE S01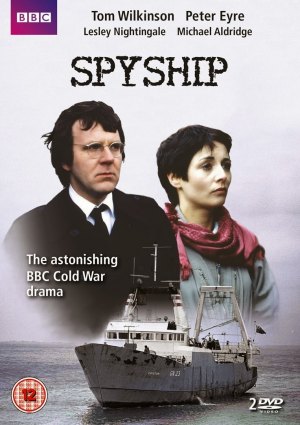 http://www.imdb.com/title/tt0142054
Spyship, the critically revered 1983 BBC Cold War drama from (in part) Callan creator James Mitchell, is finally available on DVD for the first time next week in the UK courtesy of distributor Simply Media. I've never seen this series, but as a huge fan of Callan (and of 1980s UK spy dramas), I've long wanted to and happy that now I finally can. Here's how Simply Media describes the plot:
Enter a nightmarish world of political cover-ups of international consequence in the last decade of the Cold War in this six-part BBC drama.
When an ordinary British fishing vessel and its 36-man crew mysteriously disappears off the coast of Norway, journalist Martin Taylor (Tom Wilkinson) is determined to find out why. His father was on board, and is now missing.
His investigations soon lead him to run up against the twin barriers of Royal Navy stonewalling and an impenetrable Soviet Politburo.
The notorious finale shocked audiences when it was first aired in 1983.
Spyship is based on the fictional novel by Brian Haynes and Tom Keene, former reporters who researched the real life sinking of the FV Gaul in 1974 which was shrouded in mystery.


https://www.kprotector.com/p18/62331e131ba0f